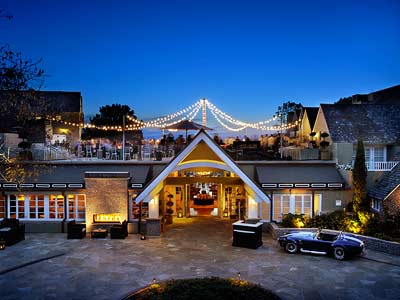 Are you are looking for the perfect spot to have your company's next conference? Are you looking for a romantic getaway for you honeymoon or anniversary? Or do you just want to get away from the hustle and bustle of your daily life? Then L'Auberge Del Mar is your only destination. Upon your arrival, you will be in an ocean-front lap of luxury. Your resort thought of every detail from the location to the handsomely appointed rooms.
San Diego is a beautiful and exciting city that has gorgeous beach fronts, marinas and a fabulous downtown. The landscape is interesting with tropical islands and boardwalks to the different ethnic subdivisions this city is sure to have something for everyone. There is so many fun and memorable things to do in San Diego here are a couple of the top favorites: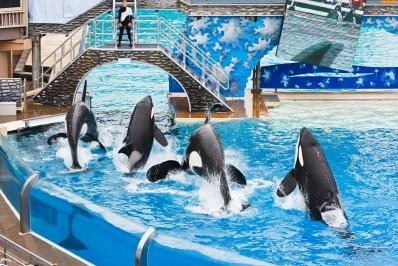 SeaWorld San Diego – with almost 200 acres of things to see and planning an adventure at SeaWorld is sure to prove entertaining, sensational and thrilling. There are so many different attractions you can see exciting shows, ride thrilling rides, check out the fabulous exhibits or be a part of the exclusive park experiences. Some of the things to do at SeaWorld include:
The San Diego International Airport is also known as Lindbergh Field. It is the second busiest single runway commercial service airport in the world. The airport is served by 20 passenger airlines and four cargo airlines which fly nonstop to 49 destinations throughout North America and Europe.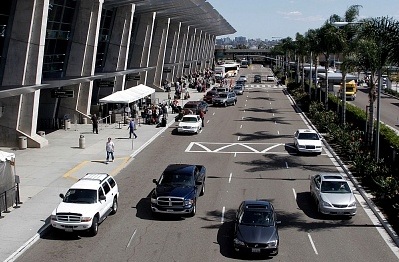 The airport is divided into three terminals. Each of the terminals is passenger friendly and is designed to accommodate the needs of its travelers. The Commuter Terminal has along with its airline gates, a few restaurants and shopping options including:
• Submarina
• Garden by Tender Greens
• 9 Dragon's Kiosk
• San Diego Bay News
• Lindbergh Field News
California's second largest city is the beautiful beach city of San Diego. This exciting city is the home of more than 1.3 million people. With more than seventy miles of gorgeous beaches the San Diego beach hotel industry has much to offer. Whether you're in town for business or pleasure you are sure the find the perfect hotel from luxurious to fun filled. Here are some of the top rated beach hotels in San Diego:
Blast back into the past to a colourful world of fun and entertainment in the elegant Historical Old Town; the birth place of San Diego. The first Europeans settled in Old Town, and with a turn of every corner, you will embark on a journey through history. Nestled in the heart of San Diego, you will find the finest theatre productions, artisans, galleries, and shops. Experience live entertainment, mariachis, dancers, and more as you walk through the rustic streets of Old Town. With more than one-hundred shops, fabulous restaurants, seventeen museums, and historical sites all around, you're in for a day of historical fun. Below are just a few of the finest attractions at Old Town:
Do you love animals? Are you looking for something fun to do as a family, a couple, or just by yourself? San Diego Zoo is the perfect place for a fun-filled day with the family, a romantic outing for a couple, or just a relaxing day for you. This world-renowned extravaganza is no ordinary zoo that's for sure! Home to over four-thousand beautiful rare and exotic animals in lush green garden habitats, you can walk through the gorgeous pathways or ride a double-decker bus throughout this impressive park. San Diego Zoo is a major research facility, however, it is expertly hidden with awe-inspiring exhibits, and entertainment shows, making San Diego Zoo more than just a zoo. Giving you whatever your heart desires, the following attractions are just a peek of what San Diego Zoo has to offer:
Want more for your money? Balboa Park offers you more; with one-thousand two hundred acres of open space areas, natural vegetation green belts, gardens and walking paths, Balboa Park is one of the oldest sites in the United States. In addition to wildlife, peaceful walking baths, and lush green scenery, Balboa Park offers an assortment of cultural attractions including a multitude of museums, several theaters, and of course the world famous San Diego Zoo. With all this and more, you are sure to get more for your money than anywhere else in California. So, take a trip to the Balboa Park neck of the woods, and enjoy a fun-filled day of history, nature, and entertainment.
Amidst the luminous sparkling ocean water, come visit SeaWorld in San Diego, California. Experience the awesome wonders of the sea without actually being in the sea. Or, spend a little time in the sea. This miraculous Park puts all of the wonders of the sea in one place giving you the opportunity to do more. From super cool rides and theme park fun to feeding the dolphins and diving with the turtles, you can experience it all. Discover a world you have only read about in books, and experience it up close and personal. SeaWorld in San Diego, California is a world renowned extravaganza and one you won't want to miss on your trip to San Diego.
With stunning dark red bartizans shooting into the sapphire horizon of the beautiful San Diego skyline, eludes a radiance of Victorian Confidence the Hotel Del Coronado San Diego is just as perfect in real life as it is in a picture. Built in the late 1880s, the gorgeous beachfront hotel near San Diego, California has been one of America's most beautiful beach resorts for centuries. In fact it is known as one of San Diego's famous National Historic Landmarks since 1977.
The weather, the motion, the beaches, and the sites make San Diego a beautiful portrait of vacation heaven! From site seeing and historical monuments to beach fun and an outrageous night life, there is plenty to do in San Diego, California. It is obvious that San Diego is a place of vacation fun, but where do you go? What do you see first? How do you get around? Well here at rediscover San Diego, we take all the guess work out of your vacation and give you all the fun without all the researching. Come rediscover San Diego in a whole new way.