Hotel Del Coronado San Diego
With stunning dark red bartizans shooting into the sapphire horizon of the beautiful San Diego skyline, eludes a radiance of Victorian Confidence the Hotel Del Coronado San Diego is just as perfect in real life as it is in a picture. Built in the late 1880s, the gorgeous beachfront hotel near San Diego, California has been one of America's most beautiful beach resorts for centuries. In fact it is known as one of San Diego's famous National Historic Landmarks since 1977.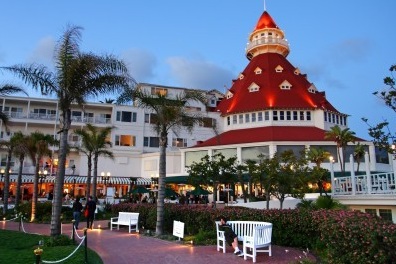 Everyone deserves to be treated like a king or queen for a night. How would you like to be a king or queen for your entire visit to San Diego? With a touch of modern luxury and the charm of a castle, you will be treated like royalty. Relax in the pure tranquility of the spa, soak up the sun on twenty eight acres of beautiful sandy beaches, or dine with the most pristine. No matter where you go or what you do, you are sure to get treated with nothing but royal appeal. In a hotel with such elegance, luxury, and charm, there is no excuse for anything less than exceptional.
Of course at such a magnificent resort there is so much to do, you may not even want to leave the hotel. Sit in your own private cabana by the pool, sail the seven seas in a little sea boat, bike through the trails of Coronado Island, enjoy yoga, go surfing or paddle boarding, or for a romantic endeavor, have s'mores on the beach. That doesn't even include kidtopia in which kids can go to three hour camps with computers, movie-time media, play room, crafts and more for kids ages 4 to 12. Even teens can enjoy a fun filled experience without being with their parents; Vibz is the hotspot for teens ages 13 to 17 featuring billiards, foosball, computers, movie-time media and more at no cost for guests.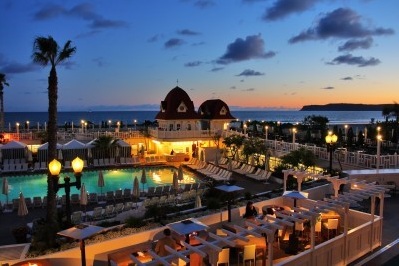 Though fun things are not all you will enjoy. The rooms are out of this world. Accommodations and amenities include the following:
• The Del's signature line of personal care and bath products
• Plush terry robes
• 26 television channels, including HBO
• Voicemail
• High-speed Internet access
• Hairdryer
• 24-hour in-room dining service
• Turndown service, upon request
• Nintendo Game Cube videogame system
• Daily newspaper delivery
• Iron and ironing board
• In-room safe
Of course this is just a small glimpse of what the Hotel Del Coronado San Diego has to offer. With entertainment and fun attractions, you will have a blast being treated just like the king or queen you are.