L'Auberge Del Mar Resort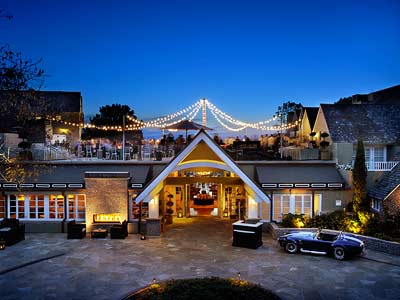 Are you are looking for the perfect spot to have your company's next conference? Are you looking for a romantic getaway for you honeymoon or anniversary? Or do you just want to get away from the hustle and bustle of your daily life? Then L'Auberge Del Mar is your only destination. Upon your arrival, you will be in an ocean-front lap of luxury. Your resort thought of every detail from the location to the handsomely appointed rooms.
Sunsets over the Pacific Ocean, a relaxing massage at the spa, a quiet stroll along the beach, fine dining, and access to the finest shops and boutiques, this is some of what you can expect during your stay at the L'Auberge Del Mar in San Diego, California. This luxury resort and spa is one of the finest in the world and on the top of Condé Nast's Gold List. Their 120 guest rooms have a posh beach cottage décor and seven of the rooms are actually exquisite suites. The L'Auberge hosts two restaurant and bar options for their guests as well as a full spa and several meeting or event options.
L'Auberge Del Mar Room Accommodations
When you walk through the doors of your guest room or suite, your mind will immediately sail away to a cozy seaside cottage. Some rooms even have fireplaces. Depending on your room type, your view will be of the gardens, the coastline, or the courtyard. To say the bedding is plush is an understatement. The ultra-soft cotton bedding and fluffy pillows for your head will envelope you in comfort. Other amenities such as marble flooring, separate seating area, guest robes, concierge service, desk, and large flat panel televisions will vary per room and suite. However, every room is available to have an evening turn down service and in-room conveniences that include coffee, tea, and Wi-Fi. Also, if you cannot stand to be without your little pooch, L'Auberge is pet friendly.
L'Auberge Del Mar Resort Amenities
You will never have to leave the vicinity of L'Auberge, because they have everything you need. Their world-class spa will have you relaxed and stress free for your entire stay. Spa L'Auberge offers massages, body and facial treatments, as well as couples packages and more. The crystal-clear waterfront pool area is complete with ocean views and private cabanas. There is no need to hunt down a gym, as the resort offers a high-end state-of-the-art fitness center. Then, when your appetite starts to call or you are in the mood for an adult beverage, the esteemed KITCHEN 1540, the Waterfall Terrace Restaurant for outdoor dining, the Lobby Bar for live entertainment, or the Bleu Bar for day and evening lively fun.
Year around the L'Auberge Del Mar Resort and Spa is a choice location that will strive to meet your every need, whether you are in for business, leisure, or romance.